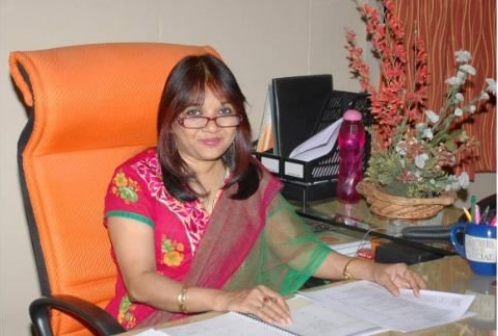 Ms. J. SIMOES
M.Com., B.Ed., P.G.D.E.A (Post Graduate Diploma in Educational Administration)
DIRECTOR, Schools Program
Vishwakarma Purple Educational Trust &
PRINCIPAL,Wisdom World School, Wakad
Wisdom World School is proud to have Ms. Simoes as its Director of Schools Program and Principal of Wisdom World School, Wakad, Pune. Ms. Simoes was with St. Mary's School, Pune for 24 years. She has a total of 39 years' experience as an Educationist.
Ms. Simoes also has had wide administrative experience as Vice Principal of St. Mary's School, Boy's Section, Pune from 1993 onwards to March 2006. Thereafter, she was the Principal of St. Mary's School till April 2010 and the Principal of St. Mary's Junior College (I.S.C.) from its inception to April 2010.
Ms. Simoes is a highly versatile and dynamic person and brings her vision of providing quality education to all at our Wisdom World Schools. On 5th Sept. 2014, she was conferred the National Award for Teachers by the President of India - Dr. Pranab Mukherjee. On 23rd November 2016, she received the Prestigious Derozio Award for excellence in Education and Human Enrichment. It is the highest recognition given by the Council for the Indian School Certificate Examination (CISCE Board).
Ms. Simoes has visited international schools and conferences and has inculcated all those positives into the Wisdom World Schools that she heads as Director.
Under her able guidance and experience, Wisdom World School, Wakad has a team of highly trained professional faculty whose primary goal is to provide Excellence in Education.